Offsite pool at The Mandurah Aquatic and Recreation Centre MARC)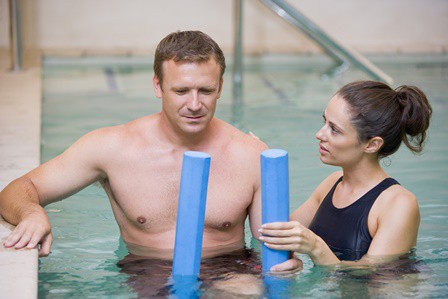 Hydrotherapy or exercise in a warm pool is ideal for gentle rehabilitation for all types of rehabilitation following illness, surgery and injury. The laminar flow current provides resistance to your workout and enables exercise with different levels of fitness and strength. The buoyancy can assist movement while the resistance can make exercises harder than on land.
Once you have been assessed on land, we will provide you with a specific exercise program designed around your individual needs. Qualified Physiotherapists are on hand to assist and guide through your exercises. We have specific equipment which we use in the pool to adjust each exercise for your needs. There are also showers available on site. You do not need to be able to swim to attend hydrotherapy, as most exercises are done with your head above water. Please let us know if you have any concerns regarding your pool sessions.
You will need to bring with you:
Towel
swimming costume (or equivalent)
sandals/thongs
Reading glasses (if necessary)
Change of clothes (if necessary)
Water bottle
You will often feel tired and drained after your first hydrotherapy session. So take it gently! You may also have increased pain due to your body not being used to the new exercises. Make sure you drink plenty of water and rest after your first session. This should improve after the first few sessions. Hydrotherapy can be done under supervision or independently, once confident and safe in the pool.  Please ensure you dry yourself off once getting out of the pool, before heading to the showers or home.  This avoids getting water on the floors.  We thank you for your assistance.
We hope you enjoy your aqua exercises with Mandurah Physiotherapy!