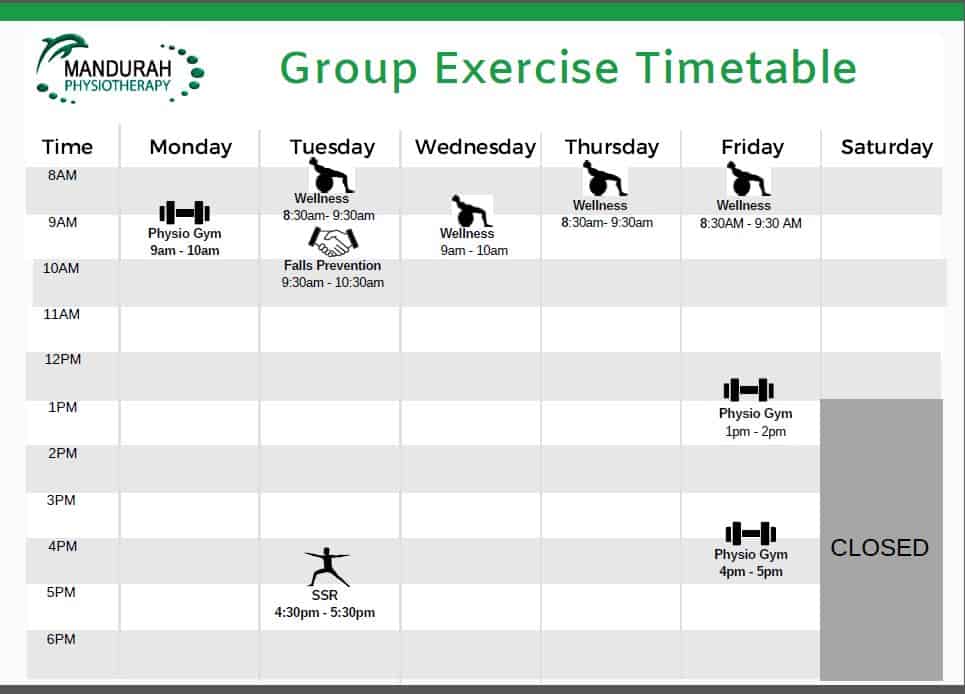 Physio Gym
Supervised gym sessions with a qualified physiotherapist. This includes specialised clinical exercises tailor-made to individual needs. Prior assessment to set goals and an appropriate program is required prior to entering this group. These sessions are run by a physiotherapist and may be claimable through Private Health funds.
Matwork Physio- Wellness
These Mat sessions are run by qualified physiotherapists and focus on core strength and flexibility. These incorporate a range of clinical exercise and may use a variety of equipment. All sessions have limited numbers and may be claimable through Private Health funds.
Falls Prevention
This group focuses on balance and coordination with individual programs for all our attendees. It is run by qualified physiotherapists with special interest in balance, falls prevention and neurological conditions.
Studio Gym
Ideal for those clients who have back or neck issues and need specific individual guidance in their exercise rehabilitation. These sessions are individualised so increased supervision can be given. Sessions go for 40-60 minutes. Sessions may be claimable through Private Health Insurance funds.
SSR Stretch, Strength, Relax Group
SSR Incorporates a variety of strength and stretching exercises in a relaxed, non-competitive environment to give you an excellent full body workout. Warning, Participant's may sleep extremely well after a session of SSR . This group training will strengthen overall body muscles. It provides a variety of clinical exercises to increase flexibility, and promote core stability, balance and general well being. Strength and stretch exercises have beneficial effects on the nervous system, leading to deep relaxation, neutralising stress, and also assist with other medical issues such as high blood pressure or insomnia. This group may able to be claimed through private health funds, and participants will be assessed for suitability and to ensure exercises are tailored and specialised to their needs.
Exercise Physiology Sessions
Be part of our Exercise Physiology group session where you will be able to undertake an individualised exercise program in a fun and friendly group environment, perfect for ongoing support and guidance in achieving your health and fitness goals. These sessions may be claimable through Private Health. Ideal for Type 2 diabetes and chronic care medicare programs
Hydrotherapy
Our Swimex Hydrotherapy pool is heated to an ideal temperature of 32-34 degrees and provides individualised usage. The heated Pool can be used for independent or supervised use with your therapist. Bookings need to be made for the pool at the reception. Bring a towel, bathers, and appropriate footwear to the pool. You may need to bring your reading glasses if you need them to read your program. We advise drinking adequate fluids after the hydrotherapy class. We recommend you book one on one reviews with you physiotherapist on a regular basis to assess your progress or to upgrade your program. Supervised Sessions may be claimable through Private Health insurance funds.