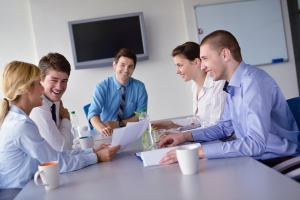 Mandurah Physiotherapy places a high value on quality service to our clients with commitment, excellence, and belief in our team.  We provide leadership, mentoring and clinical advancement to all our team members.  If you enjoy an innovative, cooperative team environment, and have a passion for high-quality therapy and service, then our career paths may be ideal for you.
Our Clinics are structured on our Vision:  "To be the foremost health provider for lifelong physiotherapy, musculoskeletal and Rehabilitation Services."  
Our Mission Statement is:  "To continually exceed our client's expectations by providing top quality holistic physiotherapy treatment and exercise rehabilitation to meet the needs of our community."
Our Core Values include: " Compassion and caring, Integrity and Honesty, Excellence and Professionalism"
Our clinics are busy vibrant practices in stages of strong business growth.  They offer opportunities for new graduates, experienced clinicians and middle management positions, with the potential for future partnership.  We offer a structured mentoring program by experienced practitioners in specialized areas including sports and musculoskeletal.
 We work with professionalism and care to support and mentor all our staff. If you are driven by success, hungry to learn a diverse set of advanced clinical skills, & ambitious to earn more than your peers; this opportunity could be just for you.
Situated in the outer suburb of Perth in Mandurah we run a vibrant practice, offering high-quality services including exercise specific groups, a rehabilitation gym, and onsite hydrotherapy pool, as well as sports, dry needling, orthotics, biomechanical assessments, and occupational health.
New Graduates with an interest in business are encouraged to apply. We have structured 2-year new graduate programs at our clinics and take students on placement. You will be supported and mentored by senior clinicians and staff. Successful applicants will have good work-life balance, extensive PD allowances, remuneration based on productivity, and the potential for future management and career positions within the practice.
Our clinics focus on holistic client care with an emphasis on quality clinical and customer care at all times. We work alongside other allied health providers in a multidisciplinary environment. We require candidates with a goal of improving their skills and becoming a clinician of choice.
AHPRA Registration
Driving Licence and Car
Ability to work in Australia
Basic Business Knowledge
Enthusiastic Customer service skills
Passion & Drive to become a fantastic private practitioner
Do you want to learn how to become an efficient private practitioner with good clinical and retaining skills?  Are you are driven by success, hungry to learn a diverse set of advanced clinical skills?  This opportunity could be right for you.
We are able to offer a variety of treatment conditions including musculoskeletal, post-operative Management, Women's & Men's Pelvic Health, Orthopaedics, Sports Injury Management, Workplace Injury Management,  biomechanics analysis, and a range of treatments including manipulation, acupuncture, exercise prescription, and biomechanical analysis.
Mandurah Physiotherapy offers a range of work opportunities.  
Currently, we have positions for: Click on the link to find out more….
Remedial Massage Therapist 
Exercise Physiologist
Dietitian
If you feel you may be suitable for a role in our company, please contact us for further details and application.  The potential candidate must be willing to relocate to Mandurah if necessary. If you feel you have the potential and drive to become a great practitioner and provide great client satisfaction, please email us with your CV and a cover letter to admin@mandurahphysiotherapy.com.au.